I was watching some top gear, and one of the shows was featured in Vietnam. One of the most amazing sceneries was filmed in Ha Long Bay. It's one of the places I'd like to visit sometime, and interestingly enough, it's very close to where Annie's mom grew up. Here are some more stunning photos of the landscape.
Ha Long Bay has an area of around 1,553 km2, including 1,960 islets, most of which are limestone. The core of the bay has an area of 334 km2 with a high density of 775 islets.[1] The limestone in this bay has gone through 500 million years of formation in different conditions and environments. The evolution of the karst in this bay has taken 20 million years under the impact of the tropical wet climate.[2] The geo-diversity of the environment in the area has created biodiversity, including a tropical evergreen biosystem, oceanic and sea shore biosystem.[3] Ha Long Bay is home to 14 endemic floral species[4] and 60 endemic faunal species.[5] – wikipedia
Some of the islands support floating villages of fishermen, who ply the shallow waters for 200 species of fish and 450 different kinds of mollusks. Many of the islands have acquired their names as a result of interpretation of their unusual shapes. Such names include Voi Islet (elephant), Ga Choi Islet (fighting cock), and Mai Nha Islet (roof). 989 of the islands have been given names. Birds and animals including bantams, antelopes, monkeys, and lizards also live on some of the islands. – wikipedia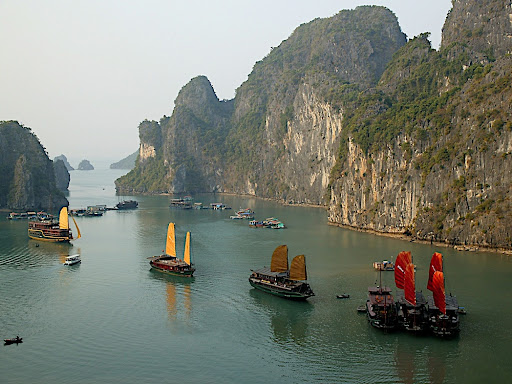 The end of the Vietnam war, and the advent of "Doi moi", Vietnam's policy of opening its economy to foreign trade, means that Westerners and South Vietnamese now have a chance to visit Ha long. Vinh Ha Long or Bay of the Descending Dragon is often touted by proud Vietnamese as the world's Eighth wonder. One of the main attractions of Ha long is the bay's calm water and the thousands of limestone mountains dotting the seascape. The Bay's water is clear during the spring and early summer. Some of the islands are quite large and there are small alcoves with sandy beaches where swimming is possible. Ha Long bay lies in the northeastern part of Vietnam and is 165 Km from Hanoi. –vietscape.com
Who else wants to go?